Myrtlewood - Myrtlewood
Pursuit Exotic Companion Prairie Burst CE
The Pursuit Exotic Companion Prairie Burst CE is Breedlove's small, travel ready body acoustic-electric guitar with a warm and rich sound that emanates from the solid myrtlewood top and myrtlewood back and sides. The smaller Companion body shape was engineered for a light play style with clean and powerful projection from a small body guitar that is a joy to hold and play. This guitar is ideal for the player looking for a more nuanced sound with more tonal complexity, and comfortable playing experience. Featuring the reliable and great sounding LR Baggs EAS electronic system, it can also be plugged in for amplification. You will sound better, play better, and play more on a Breedlove Pursuit Exotic Series acoustic-electric guitar.
$932.00 MSRP$699.00 Sell Price
Buy Now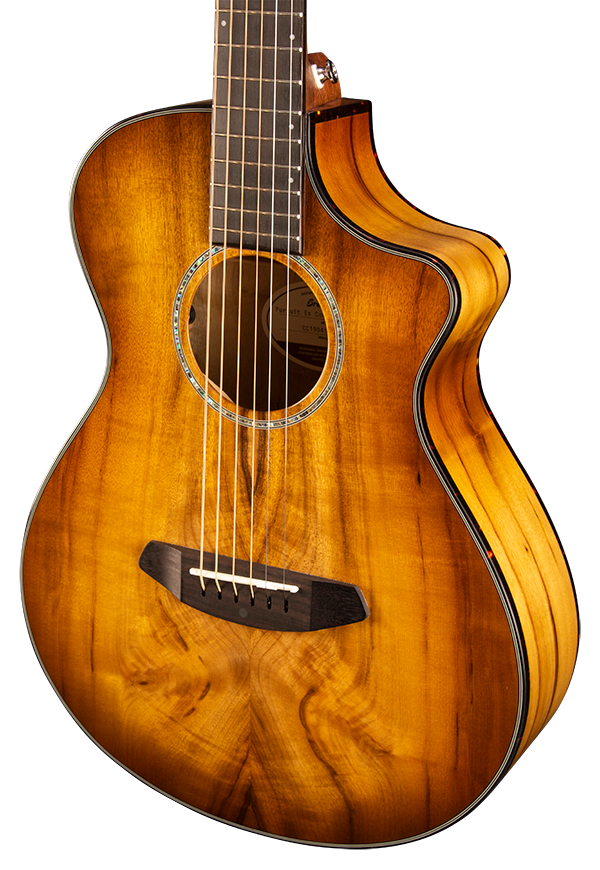 Pursuit Exotic Companion Prairie Burst CE
Specifications
Neck Wood
Mahogany (Nato)
Solid Wood Top
Solid Myrtlewood
Layered Back & Sides
Myrtlewood
Top Finish
Prairie burst gloss
Fretboard
Indonesian Striped ebony
Tuners Hardware
Chrome Closed Gear
String Gauge
D'Addario EXP 16
Bridge
Indonesian Striped ebony
Pursuit Exotic Companion Prairie Burst CE
Features
Solid Exotic Tonewood Tops
Along with its body shape, a guitar's top is the defining element of its sound, driving, through its vibration, the key aspects of volume, tone, sustain and projection. Spruce will, due in part to its famous stiffness-to-weight ratio, ring loud and clear. A solid wood top translates those vibrations with more immediacy and purity of tone, and reacts more directly with the intent of a player. If you are at an intermediate level or above, you will appreciate the instantly recognizable benefits of a solid wood top.
The Companion Body Shape
Historically, serious guitar players on-the-move have faced a rather tough dilemma; contend with the challenges of traveling with a full-size guitar or settle for a more convenient, smaller instrument with traditionally reduced sound quality… the travel guitar.
Myrtlewood Top, Back & Sides
Popularized by Breedlove, myrtlewood, from the windblown Oregon coast, combines the best elements of rosewood, mahogany and maple—rich bass, warm midrange and clear, bright trebles—for truly versatile guitars. Each sonically distinct instrument is individualized by the gnarled, wildly varied, but always arresting grain patterns.
Breedlove Pinless Bridge
Breedlove's pinless Delta bridge is a distinctive element, alright, with a sleek, modern contour that adds an extra bit of unexpected beauty to every instrument, from Discovery to Legacy. But it also adds welcome functionality while anchoring great sound. Beginners love the fact that string changes are much easier without having to wrestle a traditional pin bridge. Pros love it for the same reason! No more looking for lost pins during a fast backstage string swap. And its low profile makes for perfect right hand damping.
Breedlove Neck
Breedlove guitars feature a slimmer neck profile, which enables comfortable play, even with smaller hands. The hand-rubbed, semi-gloss Breedlove neck finish also contributes to ideal playability. The labor-intensive finish process includes precise finish coat applications, fine sanding, and hand buffing and rubbing.
Limited Lifetime Warranty
Breedlove players around the world can attest: With consistent, proper care, your Breedlove will give you a lifetime of service – and inspiration. New Breedlove instruments, purchased through an authorized Breedlove dealer, are warrantied to be free of defects in materials and workmanship throughout the lifetime of the original owner. In addition to materials and workmanship, Breedlove offers a two-year warranty on tuning machines and electronics packages. Cases and bags are subject to a one-year warranty covering defects in structure and hardware.
Pursuit Exotic Companion Prairie Burst CE
Guitar Portrait
We are pleased to present these very detailed specifications for your 2019 Breedlove acoustic guitar, which was designed in Bend, Oregon and crafted in China.
Wood and Animal Contents
Top
Solid Myrtlewood/ Umbellularia californica/ USA
Back and Sides
Myrtlewood | Umbellularia californica | United States
Neck
Nato/ Palaquium rostrarum/ Indonesia
Fretboard
African ebony | Diospyros crassiflora | Cameroon
Bridge
African ebony | Diospyros crassiflora | Cameroon
Headstock overlay
Basswood/ Tilia chinensis/ China
Body Binding
Tortoise/Plastic
Bracing
Spruce/ Picea asperata/ China
Neck / Tailblock
Nato/ Palaquium rostrarum/ Indonesia
Fretboard Inlay
Mother of Pearl
Nut / Saddle
Bone | Bubalus bubalis | China
Specifications
Layered Back & Sides
Myrtlewood
Headstock shape
Asymmetrical
Body Depth at tailblock
3.85"
Sound Hole Diameter
3.54"
Tuners
Chrome Closed Gear
String Gauge
D'Addario EXP 16
Finish
Top Finish
Prairie burst gloss
Pursuit Exotic Companion Prairie Burst CE
Light Play Style
The Breedlove Play Style system was created to help you, the player, select your sound and playing style. Finding the most appropriate guitar to fit your sound requires finding not only the correct body shape, but the proper tonewood combinations to fit your style of play. Each Breedlove guitar is designed for a specific play style and sound, the Play Style systems assign a playing style icon to each instrument.
L | Lighter Play, Fingerstyle: One of Breedlove's specialties is crafting guitars with a more focused, individual note-for-note clarity and tonal balance.