Featuring EcoTonewoods
The ECO Collection
The ECO Collection represents Breedlove's most accessible line of acoustic guitars, all crafted with trademark Breedlove design DNA. All models use layered EcoTonewood and benefit from Cascade Bracing for Custom Shop sound.
From October 1st through December 31th, Breedlove is helping players gear up for the holidays! Take $100 off any ECO Collection guitars. Plus, we're giving you 50x more chances to win an ECO Collection guitar each month by visiting a local dealer and demoing any Breedlove model. Ask your local dealer for more information!
Overview
The ECO Collection
The ECO Collection
Professional, Solid Tonewood Sound for Everyone
Two values drive Breedlove—protecting our world's forests and maximizing acoustic guitar sound. Breedlove's ECO Collection addresses both. In a visionary feat of engineering, Breedlove has developed a process to integrate three layers of tonewoo —sustainably harvested from forests visited by Breedlove owner Tom Bedell—avoiding the soft center core that dampens sound on other laminates. The ECO Collection is ushering in a new era in six-string history. With the Breedlove ECO Collection, for the first time, you can play an environmentally friendly, solid top guitar with vibrant, renewable, sound enhancing EcoTonewood back and sides. New Breedlove Designed in Bend Discovery S, Pursuit Exotic S and all-African mahogany Rainforest S models will feature this fully sustainable integrated tonewood technology. Now, great, affordable, natural sound can be good to the earth, too. No clear-cut wood is used in any new Breedlove guitar Breedlove EcoTonewood—it's where music meets the trees.
Crafted with EcoTonewoods
Sustainable, integrated tonewood technology, optimized natural sound
With EcoTonewood, Breedlove makes laminate technology sustainable, introducing a resonant core tonewood layer of clear-cut free, individually harvested African mahogany in place of the typical tone-robbing softwoods used in standard acoustic guitar manufacture. Coupled with Breedlove's deep research into revolutionary body shapes; building to target  tonewood weight adds to the optimized, natural sound of each guitar in the ECO Collection. And, Breedlove creates these better sounding laminate guitars while being kind to the earth while maintaining an accessible, entry-level price-point. Breedlove EcoTonewood—it's where music meets the trees. Learn more.
PURSUIT EXOTIC S SERIES
Go Exotic, sustainably! Breedlove has long specialized in offering intriguing alternative tonewoods, introducing, for example, hauntingly figured Oregon myrtlewood to the guitar world 25 years ago. The Pursuit Exotic S Series—featuring TUSQ nuts and saddles and Breedlove's earth-conscious, sonically superior EcoTonewood technology—allows you to affordably experience the pure, nuanced sound and striking visual beauty of exotically alluring myrtlewood, koa and cedar. All four of Breedlove's revolutionary body shapes are available in a popular all myrtle configuration, with a stunning gloss Tiger's Eye finish. Specialty instruments like nylon string, 12-string and fretted/fretless bass models are available in elegant Natural and Amber tones. Side-mounted Fishman Presys I electronics (with built-in tuner, volume, contour and phase controls) make amplification a breeze.
View Series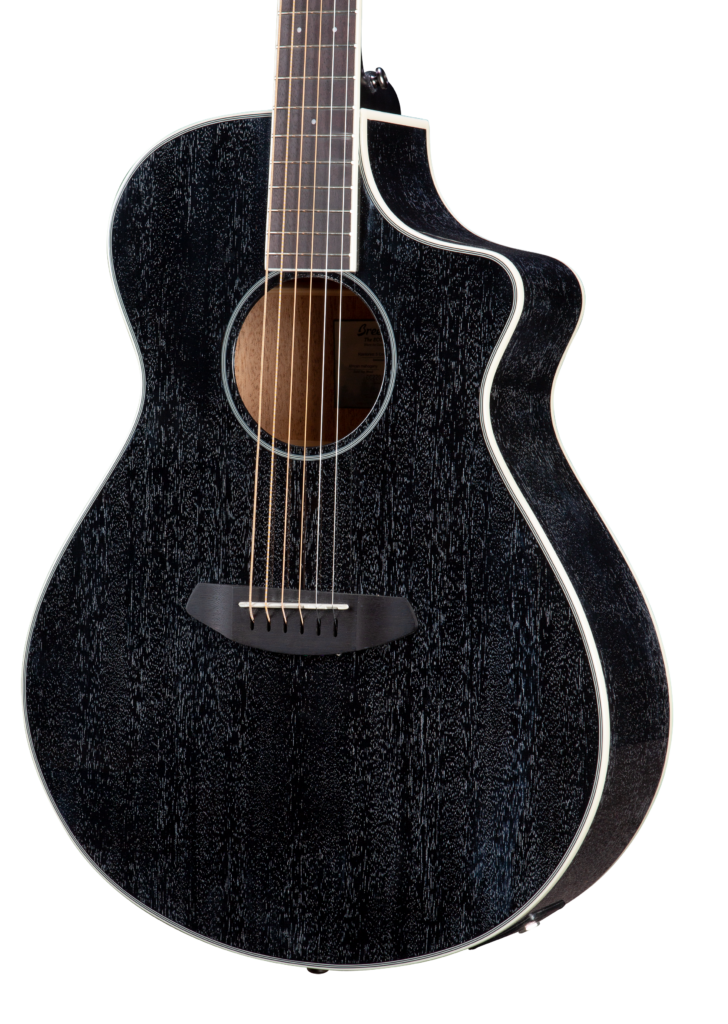 RAINFOREST SERIES
Breedlove's new ECO Collection Rainforest S Series of affordably priced guitars honors the sounds of the magnificent, mysterious Congo River Basin—the caws of colorful birds and calls of the chimpanzee. Crafted with Breedlove's earth-conscious, sonically superior EcoTonewood technology, all African mahogany Rainforest guitars bring you a warm, immediate sound with a strong midrange emphasis and a ringing sustain, along with true environmental sustainability! Versatile Concert body Rainforest guitars come in dazzling finishes like Papillon, Midnight Blue, Black Gold and Orchid, and feature Side-mounted Fishman Presys I electronics (with built-in tuner, volume, contour and phase controls).
View Series
DISCOVERY S SERIES
Beginner-friendly design makes the Discovery S Series—part of Breedlove's sustainable new ECO Collection—a perfect introduction to the world of music. A thinner neck profile with narrow nut width and radiused fretboard makes for ultra-easy play. A pinless Delta bridge makes string changing simple and fun. Carefully crafted with trademark Breedlove sound DNA, these instruments, featuring earth-conscious, sonically superior EcoTonewood technology, sound like guitars costing three times the price. Welcome to the family!
View Series