Welcome to the Breedlove Frequently Asked Questions (FAQ) section. Please note that some of the topics previously covered here are now answered within the Breedlove Owner's Manual. Download here
FAQ Quick Links:
General Guitar Care and Maintenance
Q: What is the proper climate to keep my guitar in?
The proper temperature and humidity are critical factors in the life and playability of any acoustic guitar. Maintaining the humidity level of your instrument will help prevent cracks and enhance playability. Humidity levels are considered optimum between 45% and 55%. Along with humidity, keeping your guitar at the proper temperature is also key to a long life. Your instrument should sit around 70 degrees Fahrenheit.
It is recommended to store your instrument inside of a case when you are not playing. Never store your guitar near a fireplace, heater, oven, in a car, in direct sunlight, or near any heat source. If you live in a very dry, or overly humid environment, it is even more important to keep your instrument in its case along with some sort of humidity control such as a humidifier or dehumidifier. Humidipacks do both and regulate the humidity in the case. These are available on our gear store here: Gear Store.
Q: What can I do daily to keep my instrument in great condition?
Be sure to wipe down the guitar with a microfiber cloth, after every use. Cleaning will remove sweat and dust, both of which will corrode your instrument's polish and wood. Polishing your guitar every month can also be beneficial. Make sure to use non-corrosive materials and products that are designed for the specific parts and/or materials of your guitar. Never use rough cloths or household cleaners.
Cleaning kits are available on our Gear Store and contain all the essentials needed for proper cleaning and maintenance.
Q: What do you recommend for polishing scratches?
We do not recommend any specific brands, but many products can help with surface-level scratches. Deeper scratches may need to be worked on by a guitar technician. If you have a satin or semi-gloss finished guitar, do not use polish as it can create a permanent change in appearance. The proper way to take care of a satin finish or semi-gloss is to simply use a moist rag. For the best results, it is always recommended to consult your local luthier.
Q: What is the best way to store my guitar?
It is always best to keep your guitar in a case. While in the case, it is still necessary to have it properly humidified and temperature controlled. If you would like to keep your guitar out of its case, be sure to have the room properly climate controlled. This can be done with an air conditioner/heater and a humidifier/dehumidifier depending on your climate.
Q: What is the best way to maintain the fretboard?
The best way to maintain the fretboard is to clean it regularly after playing by wiping it down with a microfiber cloth. For long-term maintenance, we recommend creating a mixture of 90% mineral oil and 10% lemon oil. Place a dab of the mixture on each fret and rub it in with a microfiber cloth. Clean up any extra oil afterward.
Q: How do I change the strings with a pinless bridge?
Please watch the video below to learn about changing strings with a pinless bridge.
Q: Is it okay if I change the string gauge?
Instruments are designed and built to perform the best under a certain amount of tension and therefore it is best to stick to the string gauge that is recommended for its body size. However, switching to a lower gauge string should not negatively affect your guitar. We would recommend taking your guitar to a local qualified luthier or guitar tech to set up the guitar when using different gauge strings.
Q: Do you sell parts?
We sell a selection of guitar accessories on our Breedlove Gear Store such as truss rod tools, side sound hole covers, and more!
We may have stock of replacement parts like saddles, nuts, or tuning machines needed for your instrument. To find out, please contact our customer service team with the contact form here: Contact Form, email at info@tohguitars.com, or call at 877-800-4848.
If you are looking for pickup systems or parts, we have limited access to older systems and only stock replacements for current systems. There is a two-year warranty on electronics. Please contact our customer service and repair department to check on availability.
We do not sell pickguards on our Gear Store, nor are we aware of any third-party brands that fit our models. We suggest using clear static film (like this one) and having it cut to size and applied by a luthier.
Q: Where can I purchase a case or gig bag?
We sell cases on the Breedlove Gear Store. Please visit and see the latest available options.
Not seeing your model size? Either we no longer make the body shape and therefore do not make a case to fit, or we are working to get a case for that shape. If you need more information, contact our customer service team.
Q: How do I get repair work done?
Please contact us using the contact form or call 877-800-4848. We must issue a return authorization (RA) before you return your instrument to us.  To find out more about warranty repairs, see the section below on the warranty.
Warranty / Registration
Q: Is the warranty transferable?
No, the warranty is not transferable and only applies to the original owner of the instrument.
Q: How do I register my new instrument?
Please look over the warranty information, then register your new Breedlove instrument by completing the form found on our Warranty page.
Instrument Specs / Tec
Q: How does my Fishman electronic work on my new Organic Pro guitar?
Your side-mounted electronic on your new Organic Pro guitar is designed for great sound and easy and convenient use. The battery compartment is located on the bottom of the guitar. Please make sure your battery is inserted correctly if you are not seeing power to the unit.
For detailed information on the electronic, please reference the Fishman user manual.
The onboard tuner is activated by holding down the upper right tuning knob marked with a "V." The electornic will not send a audio out when the tuner is activated.
Q: What finish do you use?
We use catalyzed polyurethane finish.
Q: What kind of strings does my Breedlove guitar need?
6 String Guitar:
Your Breedlove guitar with a Companion, Concertina, or Concert body shape is stocked with D'Addario XT PB Light 12-gauge strings, formerly known as EXP16's. Your Breedlove with a Concerto Body shape has D'Addario XT PB Medium strings.
12-String Guitars :
Your Breedlove 12-string guitar is either stocked with D'Addario EXP38 gauge strings or D'Addario XT PB Light 12-gauge strings.
Nylon Guitars:
Your Breedlove nylon guitar is stocked with D'Addario hard tension EJ44 nylon strings.
Bass Guitars:
Your Breedlove bass is stocked with D'Addario EXP170 light gauge bass strings.
Q: What is the recommended string height for my guitar?
Our steel 6 and 12-string guitars are set with a string height of 2/32nd inch on the treble side and 3/32nd inch on the bass side. Measure at the 14th fret from the top of the fret to the bottom of the string.
Nylon guitars and basses are set at 3/32nd inch on the treble side and 4/32nd  inch on the bass side.
Q: What are the measurements and overall length of my guitar?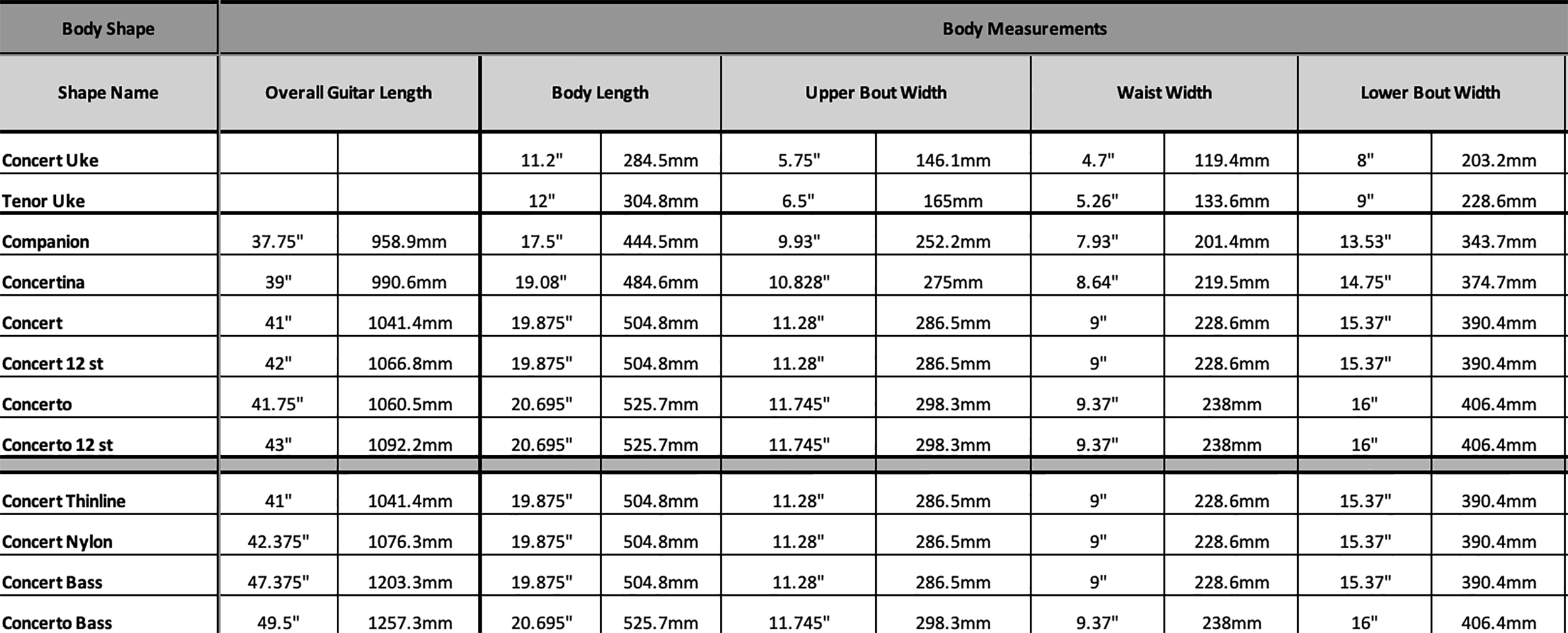 Q: What are the specs on tuning machines for my guitar?
Most of our current import models such as Organics, Discoveries, Pursuits, and Rainforests have a tuning ratio of 1:15 and have tuning machines with the same footprint as Gotoh SG510s and Gotoh SG381s. However, be sure to confirm that the screw placement is the same.
For any other tuning machine information, please contact our customer service team.
Miscellaneous FAQ's
Pre-2014 Instrument Questions
Q: Where were the Pro and Roots Series Made?
Sixty percent of the work resulted from our custom shop team preparing the highest gloss finish, custom shop bridges, fretwork, assembly, and sting-up processes. Forty percent of the handcrafted work was done with our woodworking team in Korea with the highest quality one-piece necks and all solid tone woods from the Pacific Northwest, India, Indonesia, and Africa. Add the quality of Gotoh tuning machines from Japan, German fretwire, Canadian nut and saddle, the award winning L.R. Baggs Element Active-VTC pickup, and the deluxe Breedlove hardshell case, you end up with a no-compromise world class performance guitar with a Made in the USA Limited Lifetime Warranty.
Q: Original vs. Revival Design?
The original style guitars feature the standard style, asymmetrical head stock, winged bridge and bridge truss system. Revival design features a more traditional style. If you require more power, more punch, then you may want the revival design – whereas the original is better suited for a finger picking style.