Redwood – East Indian Rosewood
Legacy Concert CE
The Legacy Concert is the epitome of the Breedlove legacy. Iconic for its wood pairings, crafted with salvaged sinker redwood and East Indian rosewood, we are able to achieve an amazingly warm and beautiful sounding fingerstyle guitar. The rosewood back efficiently projects the bass tones and accents the highs, bringing an ideal collaboration between the top and back to achieve Breedlove's famous warm textured note-for-note clarity.
$5,199.00 MSRP$3,899.00 Sell Price
Buy Now
Legacy Concert CE
Specifications
Neck Wood
Honduran mahogany
Solid Wood Top
Sinker redwood
Solid Wood Back & Sides
East Indian rosewood
Tuners Hardware
Gotoh 381, chrome
Body Depth
3.75" (neck), 4.5" (tail)
String Gauge
D'Addario XT PB Light
Pickup
LR Baggs Anthem TRU-Mic
Bridge
Delta bridge, African ebony
Legacy Concert CE
Features
Sustainable & Clear-Cut Free
Breedlove uses no clear-cut woods in its Made in Bend models. It's that's simple. Featuring sustainably sourced all solid exotic and native tonewoods handcrafted by skilled luthiers who are as sensitive to the needs of the earth as they are to building the best sounding and playing guitars available anywhere.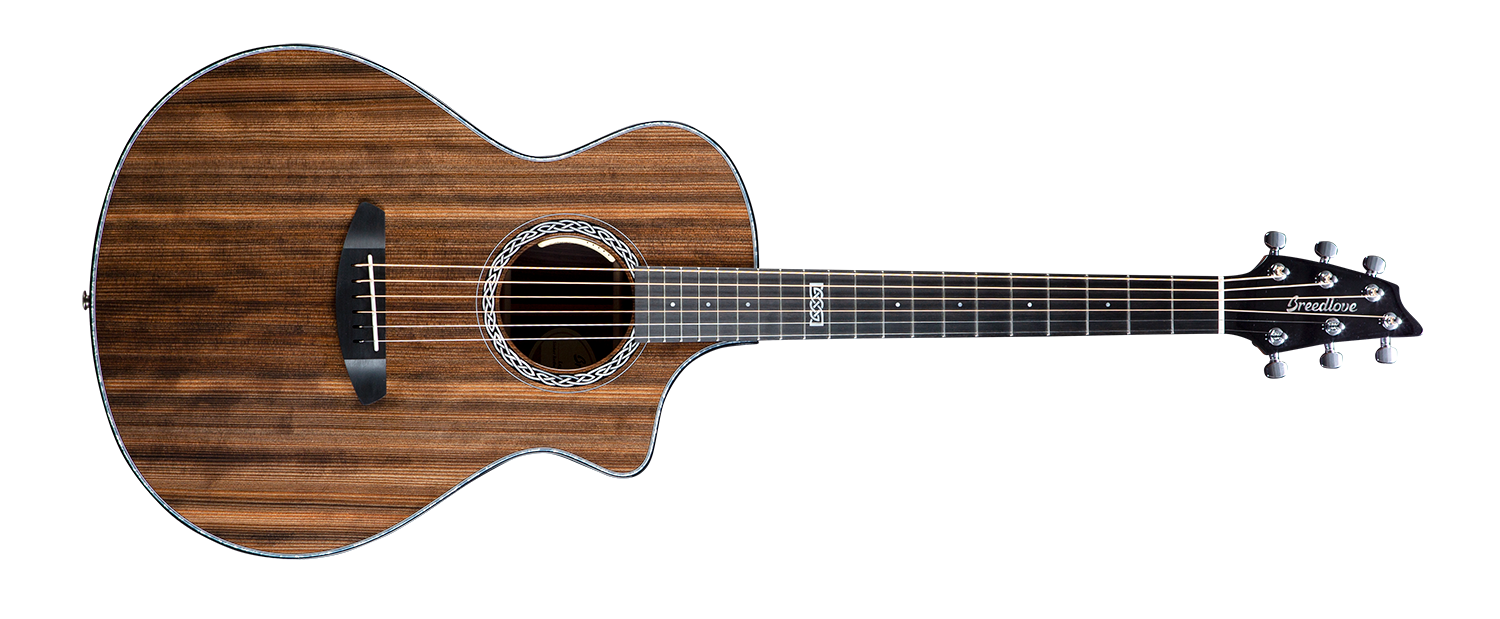 Sound Optimization & Hand Voicing
Why do Breedlove guitars sound so good? It's simple, Breedlove guitars are made with care, with the goal of allowing you to play better, sound better and play more. But it's also complex, with art, inspiration, craft and science merging together in a process we call Sound Optimization. These models are hand voiced, with experienced luthiers meticulously tapping, listening and shaving away tiny curls of exquisite tonewood as they target specific, measurable frequencies that will make each unique, individual instrument sound its very best. The tone wood species are carefully milled, weighed and considered, with backs and tops specifically tuned to each other to create light, responsive guitars with superior tone and sustain.
Concert Body Shape
The Breedlove Concert is the original Breedlove shape. It first appeared in 1992, and has been the best-selling Breedlove body shape ever since. Designed specifically for the fingerstylist to be well balanced, compact, and comfortable to play, it generates a wonderfully articulate range of tone with an ample low end that is never boomy, but always felt. The unique construction also allows the Concert to sing even at a full strum. If you're a fingerstylist, or are seeking an instrument to use as vocal accompaniment, this is the shape for you. The Concert is engineered to provide exceptional sustain with a pronounced bass response, both of which can be achieved with a light touch.
Redwood Top
Redwood, sequoia sempervirens, originates in the coastal mountains of Northern California in the United States. Redwood is a dark, beautiful top wood favored by fingerstyle players who appreciate clear upper-harmonic content. Sinker redwood comes from logs that were submerged in an oxygen-free environment, in the bottom of lakes or ocean waters, yielding darker, more striped, and often stiffer and lighter, wood. The tone is bold, punchy, and crisp, with rich, strong overtones. It sounds like a cross between spruce and cedar. Coloration can range from a light pinkish brown to a deep reddish brown.
Rosewood Back & Sides
Indian rosewood, dalbergia latifolia, originates in India and southern Iran. Indian rosewood has been the standard rosewood choice for decades. It is often associated with the great dreadnoughts, and is an amazingly neutral wood that takes its personality from the player. Well-balanced lows, mids, and highs make it a natural for many styles. For the past 30 years, a vast majority of high-end steel-string and classical guitars have been made from Indian rosewood. It is famous for rich basses and a clear treble response with well-balanced lows, mids, and highs. It is a black-streaked wood with coloration that usually leans toward purplish brown, and then oxidizes to a rich brown color.
The Breedlove Neck
Breedlove guitar necks feature a slimmer neck profile, which enables comfortable play, even with smaller hands. Unlike traditional dovetail neck joints that require major surgery for a neck re-set, it is easy to adjust the play action and neck angle with the Breedlove bolt-on neck and single-action truss rod. The hand-rubbed, semi-gloss Breedlove neck finish contributes to ideal playability – the finish process alone takes three days, including precise finish coat applications, fine sanding, and hand buffing and rubbing.
LIMITED LIFETIME WARRANTY
Breedlove players around the world can attest: With consistent, proper care, your Breedlove will give you a lifetime of service – and inspiration. New Breedlove instruments, purchased through an authorized Breedlove dealer, are warranted to be free of defects in materials and workmanship throughout the lifetime of the original owner. In addition to materials and workmanship, Breedlove offers a two-year warranty on tuning machines and electronics packages. Cases and bags are subject to a one-year warranty covering defects in structure and hardware.
Legacy Concert CE
Guitar Portrait
We are pleased to present these detailed specifications for your 2020 Breedlove guitar, which was designed and handcrafted in Bend, Oregon. In addition to its dimensions, we have listed every piece of solid wood used in this model, giving its common name, scientific name and country of origin. We use no clear-cut wood. We salvage fallen timber or individually harvest trees to minimize impact on the forest. You can travel worry free with your Made in Bend Breedlove—no permits are needed. Still, if you plan on trekking internationally, we suggest printing this information and carrying it with your guitar to avoid misunderstandings or prolonged waits with customs officials.
Wood and Animal Contents
Top
Redwood | Sequoia sempervirens | United States
Back and Sides
East Indian rosewood | Dalbergia latifolia | India
Neck
Honduran mahogany | Swietenia macrophylla | Guatemala
Fretboard
African ebony | Diospyros crassiflora | Republic of Congo
Bridge
African ebony | Diospyros crassiflora | Republic of Congo
Headstock overlay
African ebony | Diospyros crassiflora | Republic of Congo
Body Purfling
Cellulose/Plastic
Bracing
Sitka spruce | Picea sitchensis | United States
Back Strip / Side Brace
Honduran mahogany | Swietenia macrophylla | Guatemala
Kerfing
Spanish Cedar | Cedrela odorata | Guatemala
Bridge Plate
Eastern hard rock maple | Acer saccharum | United States
Neck / Tailblock
Honduran mahogany | Swietenia macrophylla | Guatemala
Fretboard Inlay
Polyester
Specifications
Headstock shape
Asymmetrical
Body Depth at tailblock
4.5"
Electronics
LR Baggs Anthem TRU-MIC
String Gauge
D'Addario XT PB Light
Legacy Concert CE
Light Play Style
The Breedlove Play Style system was created to help you, the player, select your sound and playing style. Finding the most appropriate guitar to fit your sound requires finding not only the correct body shape, but the proper tonewood combinations to fit your style of play. Each Breedlove guitar is designed for a specific play style and sound, the Play Style systems assign a playing style icon to each instrument.
L | Lighter Play, Fingerstyle: One of Breedlove's specialties is crafting guitars with a more focused, individual note-for-note clarity and tonal balance.
What Players are Saying
Reviews, Testimonials & Awards
Just purchased a week ago. 1) It's the smoothest, easiest, most forgiving instrument I've ever played. It makes me sound like a better player. 2) I'm hearing the individual strings distinctly with a clarity I've never heard before. The timbre is warm, rich, complex & clean at the same time. 3) It shines like a jewel. Turns heads on open mic night!
I bought an Atlas 125SR plus in about 2008. I loved it played it every week for 10 years as a worship leader at my church.  Finally decided to look into an American made acoustic. Of course it would be a Breedlove but I have to admit I did look at some Taylors and Martins but none held a candle to my Legacy Concert CE.  Everyone who has tried it has remarked about the balance of the sound. It seems every note rings true and the Anthem pickup system relays it perfectly.  Never once have I questioned my decision to buy it.  I'll have it for the rest of my life.  Even after it was damaged at an outdoor event, I had it repaired by the Breedlove factory to as good as new.  Thank you Breedlove!
I always wanted a redwood top and finally bought a sinker top.  It arrived today and has redefined my playing.  It's like driving a Ferrari.  The responsiveness of this guitar is phenomenal.  The neck is small and fits my hand like a glove.  I can't say enough about the quality of this piece of art.