Myrtlewood - Myrtlewood
Oregon Concert CE
The Oregon Concert CE Myrtlewood – Myrtlewood is a versatile play style acoustic-electric guitar that has become an instant favorite with players around the world. The Breedlove sound comes through bold and clean with balanced bass, mids, and highs reminiscent of rosewood.
$3,465.00 MSRP$2,599.00 Sell Price
Buy Now
Oregon Concert CE
Specifications
Neck Wood
Eastern hard rock maple
Solid Wood Top
Myrtlewood
Solid Wood Back & Sides
Myrtlewood
Back & Side Finish
Semi-gloss
Tuners Hardware
Breedlove, nickel
Body Depth
3.75" (neck), 4.5" (tail)
String Gauge
D'Addario XT PB Light
Bridge
Delta bridge, African ebony
Oregon Concert CE
Features
Sustainable & Clear-Cut Free
Breedlove uses no clear-cut woods in its Made in Bend models. It's that's simple. Featuring sustainably sourced all solid exotic and native tonewoods handcrafted by skilled luthiers who are as sensitive to the needs of the earth as they are to building the best sounding and playing guitars available anywhere.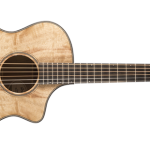 Myrtlewood Top, Back & Sides
Popularized by Breedlove, myrtlewood, from the windblown Oregon coast, combines the best elements of rosewood, mahogany and maple—rich bass, warm midrange and clear, bright trebles—for truly versatile guitars. Each sonically distinct instrument is individualized by the gnarled, wildly varied, but always arresting grain patterns.
The Concert Body Shape
The Concert, Breedlove's most popular body shape—designed 30 years ago and still going strong—is favored by discerning players for its versatile, balanced, articulate sound and its easy playing ergonomic comfort. This flagship platform performs equally well strummed or fingerpicked, and is perfectly poised for accompanying the human voice.
Sound Optimization® & Hand Voicing
Why do Breedlove guitars sound so good? It's simple, Breedlove guitars are made with care, with the goal of allowing you to play better, sound better and play more. But it's also complex, with art, inspiration, craft and science merging together in a process we call Sound Optimization®. These models are hand voiced, with experienced luthiers meticulously tapping, listening and shaving away tiny curls of exquisite tonewood as they target specific, measurable frequencies that will make each unique, individual instrument sound its very best. The tone wood species are carefully milled, weighed and considered, with backs and tops specifically tuned to each other to create light, responsive guitars with superior tone and sustain.
The Breedlove Neck
"Breedlove craftsmen often say, ""No neck feels better than a Breedlove neck." They may be a
bit biased, but industry insiders agree. Here's our big secret: hands-on sculpting. After basic machining, each Breedlove neck goes through a comprehensive, build and finish process, starting with the hand shaping of each and every neck. Next, the perfectly sculpted neck heads into the finish process where it receives a wash coat and sealer. Then, over a three-day period, multiple finish coats are applied, and the neck is level sanded. In the final stage, we perfect the finish by hand-buffing it and rubbing it down to achieve exactly the right thickness for
perfect action and playability."
LIMITED LIFETIME WARRANTY
Breedlove players around the world can attest: With consistent, proper care, your Breedlove will give you a lifetime of service – and inspiration. New Breedlove instruments, purchased through an authorized Breedlove dealer, are warranted to be free of defects in materials and workmanship throughout the lifetime of the original owner. In addition to materials and workmanship, Breedlove offers a two-year warranty on tuning machines and electronics packages. Cases and bags are subject to a one-year warranty covering defects in structure and hardware.
Oregon Concert CE
Guitar Portrait
We are pleased to present these detailed specifications for your 2020 Breedlove guitar, which was designed and handcrafted in Bend, Oregon. In addition to its dimensions, we have listed every piece of solid wood used in this model, giving its common name, scientific name and country of origin. We use no clear-cut wood. We salvage fallen timber or individually harvest trees to minimize impact on the forest. You can travel worry free with your Made in Bend Breedlove—no permits are needed. Still, if you plan on trekking internationally, we suggest printing this information and carrying it with your guitar to avoid misunderstandings or prolonged waits with customs officials.
Wood and Animal Contents
Top
Myrtlewood | Umbellularia californica | United States
Back and Sides
Myrtlewood | Umbellularia californica | United States
Neck
Eastern hard rock maple | Acer saccharum | United States
Fretboard
African ebony | Diospyros crassiflora | Republic of Congo
Bridge
African ebony | Diospyros crassiflora | Republic of Congo
Headstock overlay
African ebony | Diospyros crassiflora | Republic of Congo
Body Purfling
Basswood | Tilia americana | United States
Back Strip / Side Brace
Honduran mahogany | Swietenia macrophylla | Guatemala
Kerfing
African Mahogany | Khaya senegalensis | Republic of Congo
Bridge Plate
Eastern hard rock maple | Acer saccharum | United States
Neck / Tailblock
Eastern hard rock maple
Fretboard Inlay
Offset Dots
Specifications
Headstock shape
Asymmetrical
Body Depth at tailblock
4.5"
Electronics
LR Baggs EAS VTC
String Gauge
D'Addario XT PB Light
Finish
Back & Side Finish
Semi-gloss
Oregon Concert CE
Versatile Play Style
The Breedlove Play Style system was created to help you, the player, select your sound and playing style. Finding the most appropriate guitar to fit your sound requires finding not only the correct body shape, but the proper tonewood combinations to fit your style of play. Each Breedlove guitar is designed for a specific play style and sound, the Play Style systems assign a playing style icon to each instrument.
V | Versatile Play, Multiple Styles: Breedlove crafts most guitars with a versatile "all-purpose" sound and feel – well balanced between strumming and fingerstyle play.
What Players are Saying
Reviews, Testimonials & Awards
For the second year in a row the Breedlove Oregon Concert took the top honors for acoustic guitar by a landslide. This year's win goes to the Breedlove Oregon Concert Myrtlewood – Myrtlewood with its American Pacific Northwest- grown myrtlewood top, back, and sides. What makes the model unique, other than its stunning color and grain patterns, is the lively, crisp voice, and powerful projection achieved by this unusual choice of top wood.
I currently own a couple of Breedlove acoustics and Just traded my prized Taylor in on a Breedlove Oregon Concert CE Myrtlewood. I'm totally hooked on Breedlove guitars in their entirety. They are keepers.
What an incredible guitar! Every aspect; the appearance, the tone, the action, and the size is perfect. Breedlove is unmatched in environmental focus, innovative design, and the creation of beautiful instruments that create beautiful music!
I was looking for it; found it.
I have a 50-year-old Tama dreadnaught (a Martin clone) and a Godin Metropolis Limited Mahogany/Cedar dreadnaught. I set out looking for two things — a "folk" size guitar (slightly smaller than dreadnaught), and one that would combine the best tonal qualities of the Tama and Godin Metropolis. I knew that the second feature would be a little difficult to find. But, Breedlove's description of Myrtlewood as a tonewood is right on the mark (in my opinion) and gave me exactly what I wanted. I have had the guitar for a couple of months now; bought the all Myrtlewood natural model. It gives me everything I want, whether fingerpicking, fingerstyle, or strumming; whether folk, blues, or upbeat; slight adjustments in approach make it cry or sing. I can sense a nice, slight "aging" in the wood already, which will only improve even more over time. Added bonus is the beauty of Myrtlewood; plus, the Myrtlewood used for each guitar is totally distinct, making for a very unique guitar. Yes, I am thoroughly pleased